English for Workplace and Office
What is English 4 Work?
Our focus is on workplace English as it is used in British, American and international offices worldwide.
We think of ourselves as an interactive "online textbook" and "certification program" that can be used as a classroom or self-study tool.
We offer lessons in General Business English, Accounting, Information technology, Medicine, and Hosptiality.
The subject matter ranges from "lower intermediate" to "advanced" level English and is suitable for students, professionals, and government training programs.
If you have any questions or specific needs, you can always email us at info@english4work.com
85 Units Available in 5 Subjects
Make your classes more fun and more productive
Focus on real language and job skills
Our content is written by Workplace and Office professionals and edited by certified EFL instructors. This is not a re-hashed general purpose English course.
We teach at intermediate to advanced level.
Students require only B2 (Intermediate) level or higher to succeed in English 4 Work.
Reporting Features
We offer detailed reporting for classrooms acivity and grades. Everything the student does is tracked for the teacher or school administrator.
Develop a Class Community
Our virtual classrooms offer discussion forums where teachers can post important updates, pdfs, mp3s, and image files.
We have unique activities
The course includes custom-programmed reading, gap fill, listening, spelling, writing, and speaking activities.
Mobile and tablet ready
Our reponsive design works on any size device.
Certification Ready
Includes Workplace and Office English certificate that students can download and print out. A built-in QR code is used to help ID verification. Teachers can customize the certificates with their own school names and classes.
Partner with Us
Inquire about our cobranding options, partnerships, etc. Make your EFL (English as a Foreign Language) and ESP (English For Specific Purposes) more productive.
Certification Included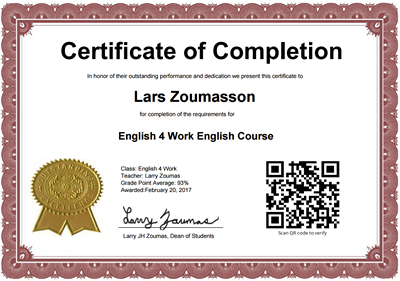 Students who complete the course will get a printable certificate they can share with friends and potential employers.
What is the pedagogy behind this?
Content written by experts
Many ESP (English for Specific purposes) teachers don't even know the subject they are teaching. That's okay. Our content is written and narrated by Workplace and Office professionals, many of whom are certified EFL (English as a Foreign Language) teachers.
Different versions for different uses
English 4 Work comes in both Student (self-study) and Teacher (blended-learning) versions. Think of it as an interactive "online textbook" which your students can use to practice pronunciation, reading, grammar, and writing skills.
Students can be graded interactively or automatically so teachers can use precious class time for group discussions.
Built-in Classroom Tools
Easily view and manage students, time spent online, completed activities, and grades
Take the tour...
Gamification Via World Rankings
Students can match their scores against a database of users worldwide
View more...
Achievement Based
Students can earn achievements as they progress through the course with the ultimate goal of earning a certification.
Powered by English4Work.com
Our software is powered by English4Work.com, a company that specializes in workplace training programs for various industries including: Accounting, Information Technology, Hotels and Tourism, and Medical English.